29 avril 2007
Hello!
I know its a long time since last time but as you all know,I am not perfect, you should all be rather glad that i am actually writing!!
In two days, I will have two months left!! You can't imagine how two months can seem so so short! I was trying to plan a weekend in Akaroa, an old french colony near christchurch, a weekend skiing in Queenstown and it really seemed like I wouldn't have the time to do those weekends!!! yea, between the ball, the stewart island weekend, the tram,ping weekend with school.....My next months are gonna be really busy!!! which is probbably really good!! I am getting scared that i won't have enough time to do all that i want, to say goodbye to everybody properly!!!!!
My easter holidays were actually really good! I spent 4 days in wanaka with my hostfamily and a german friend: Anna-Sophia. We were fairly busy in Wanaka; shoppng, hiking, sleeping.... 4 days went really fast and I realised that it could have been the last time i was in Wanaka!!! Again the sorrow invaded my mind!!!
Then, i had my North-Island tour!!great time up there!! we were 10 exchange students: 5 boys, 5 girls : Thomas and Pascal ( switzerland), Gareth ( south-africa), anna ( denmark), daniel and tatjana( germany), maria( austria), Georg ( sweden) and alison adn me( france)
The people in charge were Blair and Adele Middlemas, who brought their kids Emma and Justine. So we were 14 of us!! we hired the crapest van i have ever seen, it was licking inside when it was raining outside, the door could only be operated from the driver's seat!!! Well it didn't stop us and we did our tour!! Even with all the arguments, we had good times!!!
And finally, the last sundays of the holidays, I moved to my third hostfamily: the Parker-Lawsons family!!
I live now on : 143 layard St
Invercargill
They are really nice: The Dad is Wynton, he is playing guitar and working in the aluminium firm in Bluff! He has one son from a first wedding: Heith who is married and got 1 daughter and two step sons, he lives in Invercargill! The Mom is Donna, she is a school teacher and is the one who belongs to rotary! They have a daughter, Kerara who is 18 and is doing her first year at University in Dunedin. They also have a son, Joe, who lives at home and is going to Southland Boys high, a school just for boys!
They also ve got a cat: Mr EVIL, who is my friend and sleeps often on my bed, and a dog BRIE who is nice to walk or run with!!!!
Well, yeah, this saturday, its the ball so its pretty exciting!!
I think i leave you now
CYA xoxoxoxoxooxxo
CAROL
27 mars 2007
hehehe
Bonjour ou Bonsoir a tous!!!
How are you guys??
At the moment, I am at school, supposed to be working on graphics!!! as you can see, i am pretty slack!!!lol! yea, this year, i chose subjects that are pretty cool and relax: art, graphics, outdoor education( tramping,camping,kayaking..), german( i have to do something a bit more serious), english and study( if we can call it study)!!
Now in New-Zealand, i am 7th form, last year at school for my kiwi friends( terminal), which mean the year of the ball!! Oh yeah, my first ball in my life!! so all the preparation starts from the beginning of the year, we even have ballroom dancing lessons!! get the balldress, the shoes, the jewellery, the mask( masquerade)...and of course a partner!!! so personally, i m gonna hire a ball dress because the price of getting one made is huge ( $400 = 200 euro), my partner s name is william bowman, a good friend ( aparently a good dancer!!)
Someting else new about being 7th form is that we have a common room ( foyer) just for us!!! Unfortunatly, as you can imagine, young adult of 17 or 18 years old are not that carefull and the common room isnt in really really good conditions, for instance, this morning everybody was standing outside the room because someone left some milk that was "perimee" in the fridge and the door was open so the disgusting smell was spreading in the common room!!! how stupid!!!
I know i haven't talked about my long long holiday but i think ill tell you when ill see you in real!!!
See Karen, i am updating my blog, you should be proud of me!!!
gros bisous
Carol
22 mars 2007
after such a long time!!!
HELLO!!!!
im back, i know it doesnt seem like i have been doing anything new to this blog but i actuallly have!!! Yep, if you go to the milford track photos, there is heaps of new ones and even a new folder!!! Oh yea!!!lol
Now the reasons why I took so long to do it is : i couldnt add anyuthing for a while on my blog, internet wasnt working, couldn't really be bothered!!
But after Karen's insistance, i had to do it!!
so i hope you will enjoy the milford track pictures!!!
An other news is that, i know when im coming back guys!!! the 2nd of july, at 12 in geneva so who is planning to come?????lol no, you dont have to!!
13 janvier 2007
Par demande de mon cher Papa, je vais ecrire quelques uns de mes articles en francais!!!:)
voici le mail que je voualsi envoyer a tout le monde, mais je ne suis pas sur si vous l'avez tous recu!!
bonjour et bonne Annee a tous!!!

Voila, apres six mois en Nouvelle-Zelande, je pense qu'il est temps pour mois de vous donner un peu plus de mes nouvelles etant donne que je ne guardepas trop mon blog a jour!!!OOOPSILA!( tripinnz.canalblog.com) et meme pour vous souhaiter la bonne annee je suis assez en retard, enfin bon on va dire : "mieux vaut tard que jamais"!

Etant au mileu de mon echange, je commence deja a faire n "feedback" de mon echange!! Donc si je met dans une liste toutes les (plus ou moins) nouvelles activites que j'ai faites, bien sur en premiere place viendrait le saut a l'elastique( 143m) dont je garde un superbe souvenir et je le conseille a tous!! :) j'ai aussi eu la chance d'aller sur un jet-boat (qui a ete "by the way" invente en Nouvelle Zelande, hehehe), et puis mon conseiller m'a emene sur un petit avion parce qu'il a son permit de vol, donc j'ai eu un tour dans l'air aux alentours d' INVERCARGILL, j'ai eu aussi la chance de skier en nouvelle zelande 2 fois et a 2 differents endroits, meme si la neige n'etait pas a son top, cela m'a fait toujours pas mal de plaisir de skier, avec le rotary on a aussi fait une randonnee de 4 jours appelee "the milford tramp", c'est classe comme une des plus belles randonnees au monde et je vous la conseille vivement!! De plus j'ai experience la luge d'ete et heli-rafting a Queenstown, le ski nautique( j'ai reussi a me lever 2 fois, hehehe) a Wanaka( ou je suis en train de passer mes vacances d'ete, ma famille d'accueil ayant une maison de vacances)

voila, avec 6 mois ( to go), j'espere doubler cette liste, et que tous ne se passera pas trop vite!!!Tous ca pour dire que je m'eclate, merci a tous ceux qui ont permis cette echange de se passer ( merci aux autres aussi)!!je m'arrete maintenant dans ce mail, car vous ne pouvez pas imaginez a quel point il m'est dur d'ecrire en francais, veuillez m'excuser pour les fautes d'orthographe!!!

A bientot,
et profitez de cette nouvelle annee pour faire plein de nouvelles choses

take care
:D
Carol
03 décembre 2006
i have to tell you a lot about what's up with me in New Zealand!!
Last week, no actually the week before,( tuesday 21st november), Daniel and I took the bus to queenstown ( the most touristic place in New-Zeland) to start a crazy week!!! So we arrived on tuseday afternoon, first we settled in the motel, and then went for a little tour in queenstown which is a really nice town!
Then, the others rotary exchange students arrived, in the motel, we had fun!! lol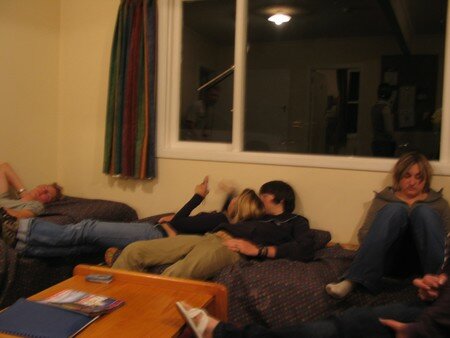 here is Yoyo (sweden), Alison( france, belfort), Nico ( argentina) and Maria ( austria)
I am gonna put all the other pictures in an "album photos because, it is taking too long!!
then, we went all together in town, hanging around in Queenstown!
the next day, we went in the morning to the luge ( luge d'ete), so we took the gondola to go up the hill and had some tour in luge!Then we had lunch at the motel and we went to the BUNGY-JUMPING bridge! And guess what??? I have been bungy jumping!!!! 43 metres!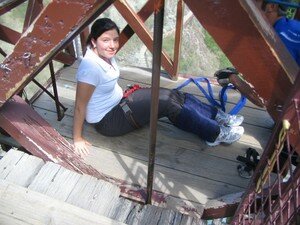 preparation, i was a bit scared though!
if you want to see more, you will see when i will finshed the album about this trip!
After this awesome experience, we had a look around in arrowtown, which is closed to queenstown and apparently is famous because you can find easily gold in the closer river! i didnt find any gold nuggets though! Then we got back to the Lodge, and for tea we had a nice chinese restaurant!!!YUMMY!! And, at the lodge we met other rotary exchange students from the north-island who were doing their south-island tour!!I didnt have much contact withthem unfortunatly, they were a big group of 30 and we were 10! The next day we woke up early to go Heli-rafting (again a fancy name who sounds really cool even if you dont know what it is) so, you take the helicopter up the river, and you do rafting down the river!! it was great! Unfortunatly, my camera is not a good swimmer so i didnt take a lot of pictures! then we came back to the lodge and had a relax afternoon, while some of the others went to bungy-jump 134 metres!!!! i would have done it if it wasnt that expensive! So everybody qwho is reading this message, if you have the occasion to do it: DO IT!!!
well, i'll tell you more about this trip later, i have to go now, the computer makes me nuts!!
c ya
Carol